There are hundreds of thousands of stamp makers worldwide but Trodat stands apart. The name spells class, excellence and perfection in rubber stamps. Trodat stamps are the first choice of discerning buyers and with good reason.
Innovations in rubber stamps
The earliest rubber stamps used vulcanising process. Rubber compound was pressed against metal lettering and cured under pressure. This technique is still in use by small manufacturers across the world. Trodat came up with innovations that give you sharper, cleaner impressions even when you have point 8 size fonts. The secret is the use of rubber sheets that are laser cut.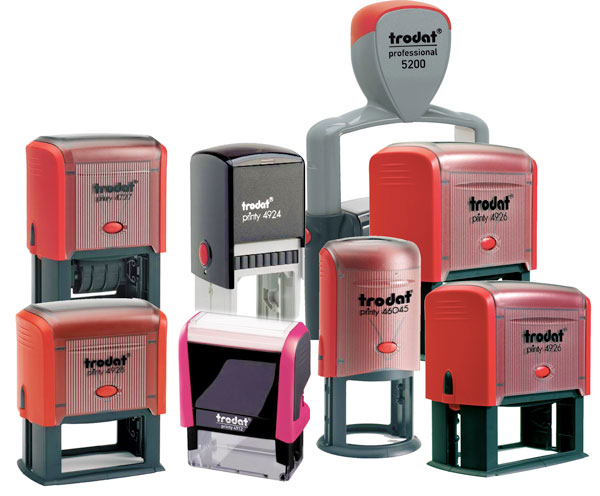 Trodat rubber stamps have a unique self-inking mechanism. Through intensive research and development the company came up with a combination of right material for the pad and the right ink formula that gave print quality to rival standard print impressions. Each letter is sharply defined. There are no smudges or blots on the paper.
Even the mechanism in self-inking stamps is unique and contributes to effortless ease of use as well as durability. You do not have to push hard. A gentle push activates the mechanism and creates the impression.
Multicolour stamps is another area in which the company stands head and shoulders above the rest. You can have as many as 16 colours and that too colours that can match your company's theme. This transforms the Trodat rubber stamp into your personal printing machine.
However, Trodat's business model is even more innovative and a pioneering effort that others followed.
Innovative business model
Trodat is based in Austria but has a global footprint through hundreds of associates in countries around the world. The company's innovative business model contributed to its popularity.
In the normal course if you want a custom rubber stamp made you would have to place an order on the company. In the case of Trodat this would mean placing an order on its headquarters in Austria and waiting for the Trodat stamp to be made and shipped. This is time-consuming and expensive. Trodat, with the help of its parent company Trotec, created a novel plan in which affiliates were supplied machines to make rubber stamps locally. Each affiliate, in a sense, is a manufacturer. They keep hardware in stock and use the machine to make the rubber stamp part. Customers get speedy service and the best product at competitive prices. Trodat provides software that can be used online by customers to create their own custom Trodat rubber stamps.
Services
Self-inking multicolour stamps or two or single colour stamps make use of inks and pads that must be replenished. Trodat makes it easy by providing pads, refill inks and cartridges. Even the text plate in a Trodat DIY stamp is easy to replace.
Make a big impression with Trodat
Stamps are small. They are rarely given the importance they deserve. Most think of them as unidimensional with a single purpose. However, given the excellence of Trodat you can make a big impression with their products. Consider features such as multicolour stamps and customisation options and you have a potent tool you can leverage to build brand value.
Superior looks, ease of use
Trodat is excellence in stamps but there is more to it. Trodat emphasizes creative design that is aimed at making its products look smart and be easy to use. Look at the micro printy and pocket printy range. They are nifty devices even lady executives will love to carry in their bags.
It is worth investing in the best if impressions matter. Trodat stamps are simply the best.
StampStore is the Australian affiliate of Trodat and offers custom Trodat rubber stamps manufactured and shipped to buyers across Australia in double quick time.